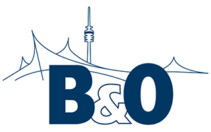 B&O is a one-source contractor for new construction, specialized in timber construction.
Anne-Frank-Str. 64
83043 Bad Aibling
Germany
https://www.bo-gruppe.de/
B&O is a one-source contractor for new construction, specialized in timber construction. They also renovate buildings, individual apartments and carry out energy-efficient retrofitting. Another major focus of B&O is the maintenance and upkeep of housing units. They operate their own service center with an emergency repair hotline, and provide and oversee the maintenance of technical facilities and equipment.
B&O renovates over 25,000 apartments every year and services 600,000 apartments (06/2013), making them a market leader in Germany in residential building renovation, improvement, and maintenance. By specializing in the care stock for the housing industry and their national experience, B&O gains an advantage and knowledge of routine in detail. They want to expand both in close cooperation with their customers. Repetition effects, rebates, one time, proper organization and partnership with local craftsmen and craftsmen ​​from structural change-prone regions enable lower manufacturing costs with high quality and deadlines. Since 2011 they have been offering their services throughout the European Union countries as well. They are looking forward to frequently working together with European partners and clients.
B&O is a highly innovative and forward-thinking company. The company constantly seeks for new measures and materials to utilize in innovative construction projects. Wood for instance, is not generally thought to be the best construction material in urban areas. B&O's four-storey apartment house project proves the opposite. This method of construction enables B&O to meet the demanding soundproofing standards of the German Institute for Standardization and the Association of German Engineers.
Latest news: The EFL Academy
Launched in January 2021, the EFL Academy is EFL's online learning environment, offering exclusive courses on housing-related topics for our members and associates. 
Like our webinars, the EFL Academy offers another digital knowledge-sharing platform where members and associates can deepen their housing knowledge.
Courses are exclusively for the network and many are also offered by the network. If you'd like to contribute a course to the EFL Academy, get in touch with us at info@ef-l.eu. 
Take an EFL Academy course now!
Contact us
European Federation for Living
P.O. box 67065
1060 JB  Amsterdam
The Netherlands
e-mail: info@ef-l.eu