California Coalition for Rural Housing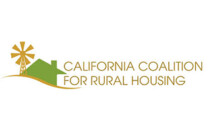 The California Coalition for Rural Housing (CCRH) is a statewide nonprofit organization that works to ensure affordable housing opportunities for low income households in California. Formed in 1976 following a farmworker housing conference, CCRH is one of the oldest state low-income housing coalitions in the country. Through advocacy, community organizing, technical assistance, research and education, our goal is to make the case for rural housing improvement and strengthen the capacity of the nonprofit and public sectors to provide affordable housing and related facilities.
 Our members are primarily community-based nonprofit and public developers, including the largest self-help housing producers in the United States, as well as local government officials, and local activists concerned about the rural quality of life.
 Geographically, we principally serve households living in the state's smaller towns and rural places, as defined by the U.S. Department of Agriculture, in non-metropolitan areas and agricultural valleys, foothill, mountain, coastal, and desert communities. Households we aim to serve include farm workers, Native Americans, the elderly and handicapped, and low-wage workers, with incomes below 50% of area median income. All of our programs are income- and geographically-targeted to these beneficiaries and areas of California.  
Latest news: The EFL Academy
Launched in January 2021, the EFL Academy is EFL's online learning environment, offering exclusive courses on housing-related topics for our members and associates. 
Like our webinars, the EFL Academy offers another digital knowledge-sharing platform where members and associates can deepen their housing knowledge.
Courses are exclusively for the network and many are also offered by the network. If you'd like to contribute a course to the EFL Academy, get in touch with us at info@ef-l.eu. 
Take an EFL Academy course now!
Contact us
European Federation for Living
P.O. box 67065
1060 JB  Amsterdam
The Netherlands
e-mail: info@ef-l.eu