News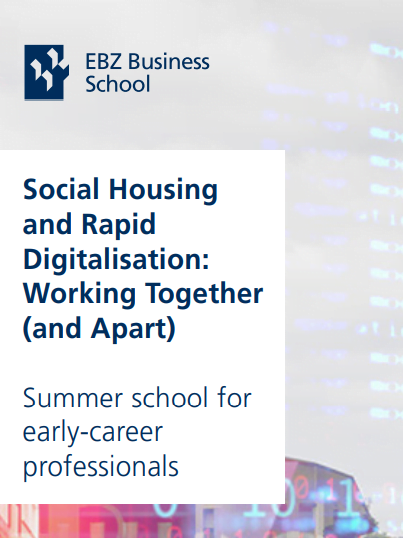 Are you a young professional in the housing sector looking to network and learn innovative ways to tackle the industry's most pressing problems? Then the EFL/EBZ Summer School for Young and Early Career Professionals is for you!
Social Housing and Rapid Digitalisation: Working Together (and Apart)
Social and affordable housing providers around Europe are dealing with rapidly changing conditions – from efficiency and digitalisation pressures brought on by the rapid pace of prop-tech innovation and the Covid-19 crisis, to sustainability and affordability challenges. Our theme for 2021 is Social Housing and Rapid Digitalisation: Working Together (and Apart).
Young and early-career professionals in the housing sector are poised to be the leaders of tomorrow. To tackle the challenges in the years ahead, they will need to critically assess the risks of rapid digital innovation as well as harnessing its opportunities. The 2021 edition of the Summer School for Young and Early-Career Housing Professionals will enable students to start doing this by learning from international practice and creating international networks.
Interactive online platform
Delivered through an interactive online platform and designed to fit around other activities, the course will combine interactive webinars with small group working sessions. Through discussion with leading experts, as well as with their own professional peers, students will learn about emerging practices in digitalising housing and community services to meet the needs of diverse communities, and to empower residents to help each other. During the course, they'll work on a team challenge and present their response in the final session. Take a look at the draft programme here.
Participation fee
The participation fee is only 350 € for EFL members (discounted fee down from 500 €). The number of participants is limited, so make sure you sign up now to save your spot!