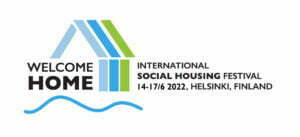 Registrations are open for the International Social Housing Festival, which will take place in Helsinki on 14th- 17th June 2022. As part of the event, EFL and Eurhonet's Social Topic Groups will be organising a joint seminar on June 15th. This seminar will include presentations from EFL and Eurhonet members who will share innovations in resident engagement, but also perspectives drawn from housing and social research, group discussions with the audience and feedback from young social housing tenants who participated in the London Youth Summit organized by Clarion. In the afternoon, participants can attend an optional site visit to the Viehe123 block, a co-built and co-managed three-house block which comprises of youth housing, student housing and housing for artists
In order to guarantee your participation, we recommend that you register for the festival and the events you wish to attend as soon as possible. Registration can be done at the following link: https://socialhousingfestival.eu/registration/. To attend the EFL seminar, please select the event entitled "Building resident voice and influence into housing and neighbourhood development" on Wednesday 15th. Finally, please keep in mind that the suggested site visit in the afternoon is not part of the seminar programme and requires a separate registration.
We convert new ideas into action.
EFL is results-driven and member-led. Our members are committed to working together to create concrete results – tangible, worthwhile projects. Together, we develop tools and services and co-operate in EU funded programmes. Our members and associates drive and shape our work: our staff act as facilitators, communicators, and consultants. Want access to our unique network of housing actors and projects?
Join us today!