News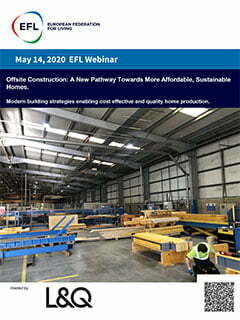 Almost all major cities in Europe continue to face shortages in affordable housing. Social housing providers are at the frontline when it comes to providing affordable housing. But they face a huge challenge trying to close the gap with limited time and money. In order to speed up production and reduce costs, some providers are turning to innovative new construction methods and processes, like offsite construction, to tackle this challenge.
Building on the very successful Oxford Topic Group Construction (TGC) meeting on offsite construction in February, TGC leader, Eric Danesse, and UK based Housing Association L&Q will host a webinar on 14th May 2020 to discuss this topic with the whole network.
Programme: click HERE
Details: Webinar May 14th from 11.00-12/30 CET. Only for EFL members and associates.
Exploring how housing associations could capitalise on offsite construction as a way to produce more sustainable, affordable housing quicker, the webinar will include the following speakers:
• Wayne Hill – Production Strategy Director at L&Q Housing: L&Q plans to develop 100.000 affordable homes by 2028. Wayne will talk us through the Modern Methods of Construction (MMC) system that L&Q have developed to achieve their ambitious goal.
• Pascal Chazal – leading French expert in offsite construction: Pascal will explore the reasons for opting for offsite construction methods, the latest state of play in the offsite industry, and look at how you can begin using it in your organisation.
• Eric Danesse – Joost Nieuwenhuijzen introduce and moderate this webinar