News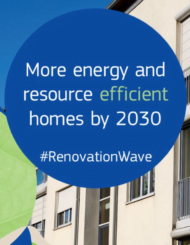 Recently, the European Commission launched its Renovation Wave initiative, intending to double Europe's renovation rate in the next ten years and contribute to making the continent carbon neutral by 2050. And this initiative is not without a reason. Europe's buildings account for 40% of EU energy consumption and 36% of greenhouse gas emissions, with more than 34 million Europeans at risk of energy poverty and unable to heat their homes as a result of poor energy performance. Renovation will help to combat these problems, but significant effort is needed to stimulate investment.
EFL will keep you updated!
EFL is launching a series of articles about the Renovation Wave. In each article, we are going to cover one of the eight Renovation Wave "headlines" (see below) and combine the information with examples from the EFL community and the housing industry. These articles will be published on our website and sent to you through the EFL newsletter.
Renovation Wave: 8 headlines
The Renovation Wave, part of the European Green Deal, sets out a number of actions to be implemented between now and 2024 under eight headlines. The eight headlines are:
Strengthening information, legal certainty and incentives for renovation
Reinforced, accessible and more targeted funding supported by technical assistance
Creating green jobs, upskilling workers and attracting new talent
Creating a sustainable built environment
Placing an integrated participatory and neighbourhood based approach at the heart of renovation
Tackling energy poverty and worst-performing buildings
Public buildings and social infrastructure showing the way
Decarbonising heating and cooling.
Watch out for our EFL articles on these "headlines" coming your way very soon!
"With the Renovation Wave we will tackle the many barriers that today make renovation complex, expensive and time consuming, holding back much needed action. We will propose better ways to measure renovation benefits, minimum energy performance standards, more EU funding and technical assistance, encourage green mortgages, and support more renewables in heating and cooling. This will be a game changer for home-owners, tenants and public authorities."
Kadri Simson, European Commissioner for Energy