News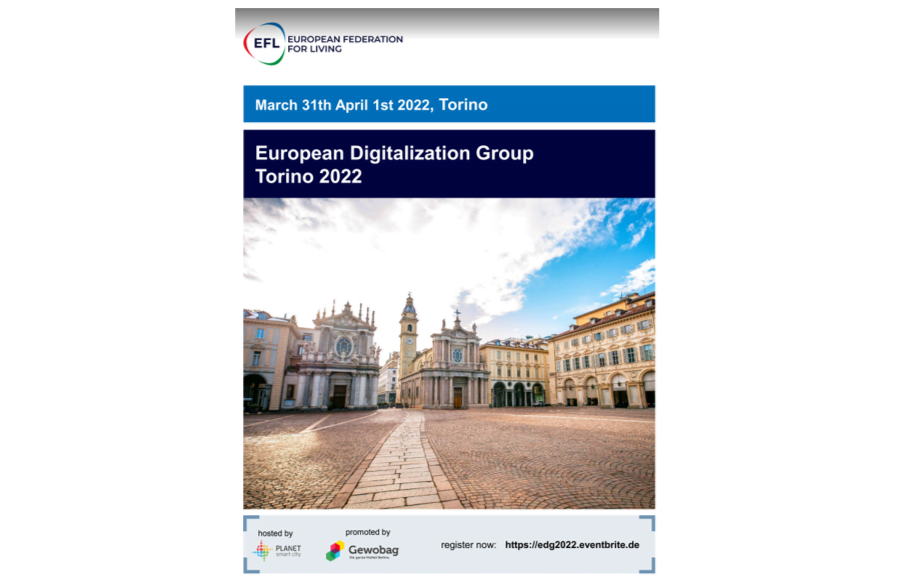 An exciting and highly interactive seminar style meeting is prepared for you in the beautiful city of Torino (Italy). Two days of workshops, presentations and a concluding site visit to the City of Milano on Friday, the 1st of April. The meeting of the European Digitisation Group (EDG) is hosted by EFL member Planet Smart City, a specialist in smart city development.
Agenda/programme
The draft programme of the meeting includes workshops about: smart city solutions of districts, energy solutions with digital tools, digital energy services, and more. There is special attention to the user side: how can residents optimally make use of these digital solutions to save on energy. On Friday April 1, the group will visit the REDO Merezzate SMART District in Milano and to see and experience how these solutions work out in practice.
Registration
Registration to this event is possible via this link of eventbrite. For those who are not able to attend the meeting in person, the host offers also the opportunity to attend the meeting digital. Also here it is required to register via the Event Brite Link.
We hope to see many of our members and associated partners in Torino!
Best regards,
Oliver Falk Becker, Roman Riebov (Topic Group leaders)
Graziella Rocella (Planet Idea)
Joost Nieuwenhuijzen (managing director EFL)