News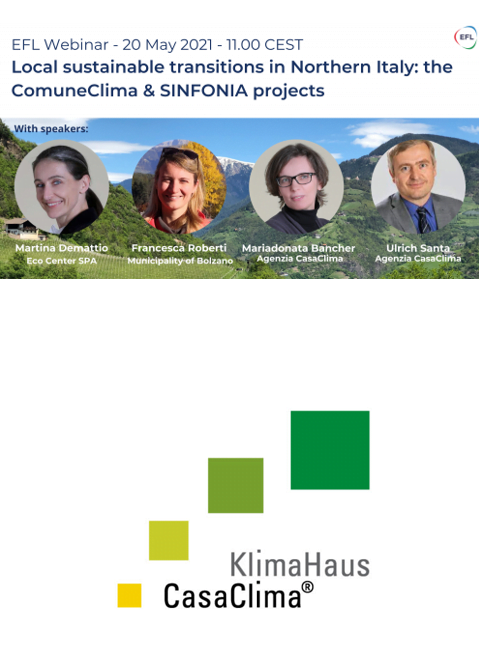 Interested in sustainable transition at the local level? Wondering how local housing organisations could play a role in implementing and scaling this transition? Join us next Thursday 20 May at 11.00 (CEST) for the next EFL Webinar: Local sustainable transitions in Northern Italy: the ComuneClima & Sinfonia projects.
Northern Italy: local sustainable transition
Don't miss EFL's next webinar, looking into how local authorities and housing providers in Northern Italy have been working on local sustainable transitions via the ComuneClima and Sinfonia projects.
The webinar agenda 
11:00 – 11:05 Intro to the webinar – Lily Maxwell, EFL
11.05 – 11.15 Introduction to CasaClima, Ulrich Santa
11:15 – 11:30 ComuneClima: a quality management and awarding system for municipalities – Mariadonata Bancher, CasaClima Agency
11:30 -11:45 ComuneClima Gold Bolzano: sustainable energy and climate actions at local level– Francesca Roberti, Municipality of Bolzano
11:45 -12:00 Refurbishment of the social housing stock in Bolzano: the SINFONIA project´s results – Martina Demattio, Eco Center SPA/ CasaClima Consultant
12:00 – 12:15 Q&A and closing.
More information about the speakers
Dr. Ulrich Santa (Managing Director, CasaClima Agency) became Managing Director of the public CasaClima Agency in 2012. The ClimateHouse (also KlimaHaus – CasaClima) standards and protocols represent an internationally renowned concept that connects sustainability and energy efficiency for buildings, enterprises and municipalities with regional development.
Mariadonata Bancher (R&D Coordinator, CasaClima Agency) is the coordinator of the Research&Development department at CasaClima Agency. She is managing the sustainability certification protocols and the ComuneClima programme, as well as various European research projects in these fields.
Francesca Roberti (Municipality of Bolzano) has been working since 2018 in the office for Geology, Civil Protection and Energy of the municipality of Bolzano/Bozen. She holds a Master degree in Building Engineering from the University of Trento and a PhD in Sustainable Energy and Technology from the Free University of Bolzano/Bozen. She gained experience in the field of research on energy efficient buildings at Eurac research in Bolzano
Since 2019, Martina Demattio (CasaClima Consultant) has been working at Eco center SPA as a technical expert for municipal grid management. Before taking this position, she worked at the CasaClima Agency for 10 years.
This webinar will be moderated by: Lily Maxwell, Network Coordinator at EFL. Join us to find about more about some inspiring projects that are helping local authorities and housing organisations to implement and scale sustainable initiatives in Northern Italy.
We look forward to seeing you there!